While the world has long embraced Barbiecore, the iconic Barbie herself has finally joined the trend.
Margot Robbie, set to portray Barbie in the upcoming film, is fully immersing herself in the Barbie persona off-screen as well. From premieres to photo calls and everything in between, Robbie has wholeheartedly embraced the Barbie aesthetic, leaving no airport paparazzi encounter devoid of a vibrant pink-on-pink extravaganza.
With the help of stylist Andrew Mukamal, Robbie has painstakingly crafted her press tour ensembles to exude authenticity. In fact, several of her outfits are meticulous recreations of iconic Barbie ensembles from bygone eras.
As we await the film's release on July 21, let's delve into Robbie's captivating Barbie-inspired outfits and the legendary Barbie dolls that inspired them.
This Barbie Radiates Pink and Fabulous Vibes
If Barbie owned a sports team, its vibrant palette would comprise hot pink, white, and yellow. These colors are instantly recognizable as Barbie's signature combination. During a photo call in Beverly Hills, marking the official commencement of the Barbie press tour, Robbie paid homage to the 2015 Pink and Fabulous Barbie by donning a polka-dot Valentino minidress in Barbie's favored trio of hues. Even without prior knowledge of Robbie's purpose (though, given the film's marketing budget, it feels implausible not to be aware), the color scheme unambiguously screams Barbie. Simply put, she exudes unparalleled fabulousness.
This Barbie Embodies Dynamism
The Barbie convertible, a miniature symbol of Barbie's essence, is almost as iconic as its larger-scale counterpart, the Barbie Jeep. But what could possibly be better? An adult-sized Barbie convertible, of course!
Sure, one could paint any random convertible pink and christen it a Barbie car. However, without Margot Robbie, clad head-to-toe in Bottega Veneta, sitting behind the wheel, it just wouldn't be the same.
This Barbie Adores Pink Gingham
Since at least 1973, Barbie has been an ardent fan of gingham, particularly in delicate shades of baby pink. The Quick Curl doll from that year featured this iconic pattern. However, the deliberate use of gingham in Barbie's film trailer, including Barbie's pink gingham belted dress, has stirred curiosity among fans. Is it a mere coincidence, or does Barbie's attire pay homage to Dorothy's renowned blue gingham dress from The Wizard of Oz?
Throughout the press tour, Robbie has adorned herself with the classic checked pattern on multiple occasions. She flaunted a two-piece Prada bra and miniskirt set, as well as a vintage Chanel blazer (admittedly leaning more towards plaid, but close enough). The inclusion of gingham may carry deeper meaning than a simple nod to Barbie's fashion legacy.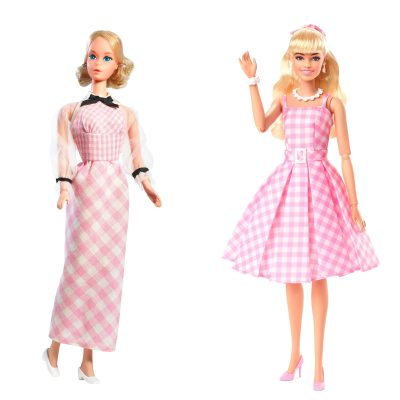 This Barbie Channels the "Teenage Fashion Model"
Robbie and Mukamal's attention to detail in recreating the 1959 Teenage Fashion Model Barbie is undeniably remarkable. The striped Hervé Léger bandage dress mimics the strapless silhouette of the original Barbie's swimwear. However, the true essence lies in the accessories: white cat-eye sunglasses with blue lenses, patent leather peep-toe mules, and gold hoop earrings—each faithfully replicated. Robbie's impeccable glam elevates the entire look, from her perfectly coiffed ponytail to the tantalizing hint of red polish peeking out from her peep-toe shoes. It's a flawless rendition.
This ensemble isn't unfamiliar either. A glimpse of Robbie in a similar outfit was previously seen in December of last year when Warner Bros. unveiled the film's first teaser trailer. Clearly, Teenage Fashion Model Barbie holds a prominent place on the film's mood board.
This Barbie Has Post-Work Plans
Long before the concept of remote work entered our consciousness, the "working girl" grappled with transitioning her office attire from "day" to "evening" (at least, if we are to believe the women's magazines of that era).
Enter "Day-to-Night" Barbie, introduced in 1985. For the Seoul premiere on July 2, Robbie donned the Versace iteration of this classic from the 9 to 5 era. Mukamal and Robbie went the extra mile, adorning her ensemble with a bedazzled faux 1980s cellphone accessory. Their unwavering commitment to authenticity is truly commendable.
This Barbie Exudes Jackie O Elegance
It was only a matter of time before Moschino crafted their version of a Barbie look, and the Italian fashion house did not disappoint. Their interpretation of the 1964 Sparkling Pink Barbie is the epitome of camp, featuring an intense pink hue, rhinestone embroidery, and a quilted heart-shaped leather bag.
Although Moschino took some liberties with the silhouette, opting for a shorter hemline and a modern cropped jacket, they maintained the 1960s essence of Sparkling Pink Barbie by adding a fitting accessory: a pillbox hat complete with an oversized bow. Jackie O would be astounded.
Please note that this post will be updated to capture any developments in Robbie's Barbie-inspired journey.