"Selling Sunset," the hit reality TV show that takes us behind the scenes of high-end real estate in Los Angeles, not only captivates viewers with its extravagant properties but also mesmerizes us with its impeccable fashion choices.
The cast members of "Selling Sunset" know how to dress for success, and their outfits exude luxury, style, and confidence. In this article, we will explore five standout outfits from "Selling Sunset" that will make you feel like $75 million bucks, whether you're a real estate mogul or simply seeking some fashion inspiration.
Power Dressing with a Twist
One of the defining features of the "Selling Sunset" fashion is power dressing with a twist. Take inspiration from Christine Quinn's bold and glamorous outfits, like a tailored blazer paired with statement-making accessories. Combine a sleek and structured blazer with a playful mini skirt or a pair of leather pants. Finish off the look with chunky jewelry, sky-high heels, and a confident attitude. This ensemble will make you feel like a powerhouse, ready to conquer any boardroom or social event with style.
Effortlessly Chic Resort Wear
The "Selling Sunset" cast knows how to embrace the allure of resort wear, even when they're not on vacation. Take inspiration from Mary Fitzgerald's effortlessly chic outfits, featuring flowing maxi dresses, wide-brimmed hats, and oversized sunglasses. Opt for lightweight fabrics and vibrant prints that exude a sense of relaxation and luxury. With these resort-inspired outfits, you'll feel like you're sipping cocktails by the pool, even if you're just strolling down the city streets.
Sophisticated Evening Glam
When it comes to evening glamour, Amanza Smith knows how to steal the show. Channel her sophistication with sleek and figure-hugging dresses, plunging necklines, and strategic cutouts. Opt for luxurious fabrics like satin or velvet to elevate the elegance factor. Complete the look with statement jewelry, sleek updos, and a touch of confidence. With these show-stopping evening outfits, you'll feel like the belle of the ball, turning heads at any upscale event.
Casual Chic with an Edge
For a more relaxed yet stylish look, draw inspiration from Chrishell Stause's casual chic outfits. Embrace the perfect balance between comfort and fashion by pairing jeans or tailored pants with elevated basics like a crisp white shirt or a fitted blazer. Add a touch of edge with leather jackets, statement boots, or trendy accessories. This casual chic ensemble exudes a sense of effortless cool, allowing you to rock any daytime occasion with confidence and style.
Bold and Daring Statement Pieces
No "Selling Sunset" fashion roundup would be complete without mentioning the bold and daring statement pieces worn by Heather Rae Young. Embrace her fearless style by incorporating eye-catching elements such as bold prints.
Embrace the Power of Statement Accessories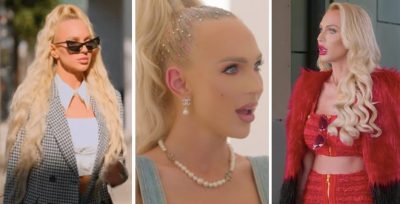 Statement accessories are the key to elevating any outfit, and "Selling Sunset" is no stranger to bold accessories. Take a cue from the cast members and incorporate eye-catching statement pieces into your wardrobe. From oversized sunglasses and chunky necklaces to vibrant handbags and daring shoes, these accessories have the power to transform a simple outfit into a fashion-forward statement. Embrace these standout pieces, exude confidence, and let your unique style shine.
Rock Vibrant Colors with Confidence
When it comes to colors, the "Selling Sunset" cast isn't afraid to embrace bold and vibrant hues. Channel your inner fashionista by incorporating vibrant colors into your outfits. Whether it's a vibrant red dress, a bold yellow blazer, or an electric blue jumpsuit, these eye-catching colors will make you stand out from the crowd and exude a sense of confidence that can't be ignored. Embrace the power of color and let your vibrant personality shine through.
Be Fearlessly Fashion-Forward
The fashion choices on "Selling Sunset" are anything but ordinary. The cast members embrace their individuality and aren't afraid to take risks. Take inspiration from their fearlessly fashion-forward approach by experimenting with unique and trendsetting pieces. Whether it's a dramatic feathered jacket, a sequined jumpsuit, or a statement-making hat, these fashion-forward choices will make you feel like a trailblazer in the world of style. Embrace your inner fashionista and let your imagination run wild.
Find Your Signature Style
One of the most inspiring aspects of the "Selling Sunset" fashion is the cast members' ability to find and embrace their signature styles. Take this opportunity to discover your own unique style and make it your fashion statement. Whether you're drawn to sleek and modern looks, bohemian vibes, or edgy ensembles, find what resonates with you and own it with confidence. Your signature style will not only make you feel like a million bucks but also leave a lasting impression on those around you.
Confidence is the Ultimate Accessory
Above all, the "Selling Sunset" fashion is fueled by confidence. No matter what outfit you choose to wear, it's essential to wear it with confidence. Believe in your style choices, embrace your individuality, and radiate the self-assuredness that comes from feeling comfortable in your own skin. Remember, confidence is the ultimate accessory that will truly make you feel like $75 million bucks.
The fashion choices on "Selling Sunset" are a true source of inspiration. By incorporating elements of power dressing, effortless chic, sophisticated glamour, casual coolness, and bold statements into your own wardrobe, you can feel like a million bucks every day. Embrace the confidence, style, and individuality of the "Selling Sunset" cast and make your fashion choices a true reflection of your personality. With their fashion-forward approach and fearless style, you have the power to create a signature look that turns heads, exudes luxury, and makes you feel like you're worth $75 million bucks.