Nostalgia has a powerful way of bringing back trends from the past, and the early 2000s are no exception. From fashion to beauty, the Y2K era left an indelible mark on pop culture. One trend that made a major comeback is Y2K manicures. These iconic nail styles, popularized by celebrities and fashion icons of the time, are now resurfacing with a modern twist. In this blog post, we'll take a trip down memory lane and explore 15 Y2K manicure ideas that prove nostalgia is alive and well. Get ready to embrace the vibrant colors, bold designs, and playful aesthetics that defined the early 2000s.
Bedazzled Bliss
Sparkles, rhinestones, and bling were all the rage during the Y2K era. Embrace the bedazzled bliss of the early 2000s with manicures adorned with shimmering gems and glitters. Create a dazzling statement by accentuating one or two nails with intricate designs or go all out with a fully bedazzled manicure. Let your nails sparkle and shine, paying homage to the glamorous trends of the past.
Colorful French Tips
The French manicure received a playful twist in the 2000s with colorful tips. Instead of the classic white, opt for vibrant and bold hues like neon pink, electric blue, or lime green. Experiment with different nail shapes and mix and match colors for a fun and modern take on this iconic trend. Get ready to turn heads with your vibrant and edgy French tip manicure.
Tie-Dye Delight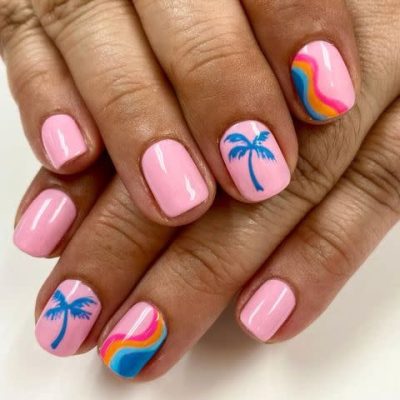 Tie-dye was everywhere in the early 2000s, from clothing to accessories, and now it's making a comeback on our nails. Create a psychedelic and eye-catching effect with tie-dye-inspired nail art. Use a variety of vibrant colors and swirling patterns to achieve the quintessential Y2K look. Whether you go for a full tie-dye manicure or incorporate it as an accent nail, this trend is sure to add a playful and nostalgic touch to your style.
Logo Mania
Logos and brand names were prominently displayed in Y2K fashion, and now you can showcase them on your nails too. Embrace logo mania with nail art featuring iconic brands and symbols. From designer logos to pop culture references, let your nails become a canvas for expressing your favorite brands and embracing the nostalgia of the 2000s.
Funky Animal Prints
Animal prints were a staple of early 2000s fashion, and they've made a roaring comeback. Add a wild and fierce touch to your nails with funky animal prints. Experiment with leopard spots, zebra stripes, or even cow print. Combine different prints or use them as accents to create a trendy and nostalgic manicure that captures the essence of the Y2K era.
Shimmering Metallics
Metallic nails were a futuristic trend that dominated the Y2K era. Embrace the space-age vibe with shimmering metallic nail polishes in silver, gold, or metallic hues. Add a modern twist by incorporating chrome finishes or holographic effects for an extra touch of magic. Let your nails shine bright like the stars and embrace the futuristic glamour of the early 2000s.
Neon Extravaganza
When it comes to Y2K manicures, neon colors were a must-have. Embrace the vibrant and electrifying energy of the early 2000s with neon nail polish shades. Opt for neon pinks, yellows, greens, or blues to make a bold statement. Mix and match neon colors or create eye-catching nail art designs that capture the essence of this electric trend. Let your nails radiate with the nostalgic glow of neon.
Glitter Galore
Glitter was synonymous with the Y2K era, adding a touch of sparkle and glamour to everything. Bring back the glittery magic with manicures that are adorned with shimmering glitter. Whether you opt for an all-over glitter look, accent nails, or glitter gradients, this trend will instantly transport you back to the glitz and glamour of the early 2000s. Let your nails dazzle and shine with a sprinkle of nostalgic magic.
Delicate Florals
Delicate floral patterns were a popular choice for Y2K manicures. Embrace femininity and romance with dainty floral nail art. Choose pastel shades and intricate floral designs to create a soft and ethereal look. Whether it's a full floral manicure or accent nails with blooming petals, this trend adds a touch of elegance and nostalgia to your nails.
Pop Art Designs
Y2K was a time of bold and graphic art, and your nails can reflect that too. Embrace the playful spirit of the early 2000s with pop art-inspired nail designs. Think bold geometric shapes, comic book-inspired patterns, and vibrant color combinations. Get creative and let your nails become a canvas for eye-catching and retro-inspired art that showcases your artistic side.
Edgy Graffiti
Graffiti and street art were influential in the Y2K era, and now you can bring that urban edge to your manicures. Embrace the rebellious spirit with edgy graffiti-inspired nail art. Use bold colors, abstract patterns, and street-style lettering to create a manicure that captures the urban vibe of the 2000s. Let your nails make a statement and unleash your inner rebel.
Holographic Hues
Holographic nails were a futuristic trend that mesmerized during the Y2K era, and they continue to captivate today. Embrace the iridescent and otherworldly beauty of holographic nail polishes. Opt for polishes that shift colors in the light, creating a mesmerizing effect on your nails. Whether you choose a full holographic manicure or incorporate it as an accent, this trend adds a touch of cosmic nostalgia to your style.
Candy-Colored Pastels
Pastel shades were a beloved choice for Y2K nails, adding a soft and whimsical touch to any manicure. Embrace the sweet and candy-colored nostalgia with pastel nail polishes. Choose shades like baby blue, lavender, mint green, or soft pink to create a dreamy and nostalgic look. Mix and match pastel colors or use them as a base for other nail art designs. Let your nails become a sugary delight.
Futuristic Chrome
The Y2K era was filled with futuristic fashion and beauty trends, and chrome nails were no exception. Embrace the futuristic allure with sleek and reflective chrome nail polishes. Opt for silver, rose gold, or metallic shades to create a polished and modern look. Whether you go for a full chrome manicure or incorporate it as an accent, this trend adds a touch of sophistication and futur istic edge to your nails.
Retro French Tips
The classic French manicure gets a retro twist with bold colors and unique designs. Instead of the traditional white tips, opt for vibrant and contrasting hues that scream Y2K. Choose colors like electric blue, hot pink, or lime green for a fresh take on this timeless trend. Get creative with asymmetrical tips, geometric shapes, or even animal print patterns to add a touch of nostalgia to your French manicure.