June is a month of celebration and solidarity as the LGBTQ+ community comes together to commemorate Pride. It's a time to embrace love, acceptance, and self-expression. One way to showcase your support and join in the festivities is through Pride-themed nail art. In this blog post, we will explore 15 vibrant and joyful nail ideas that celebrate Pride.
From rainbow-inspired designs to symbolic motifs, these nail art ideas allow you to express your pride, spread love, and honor the spirit of inclusivity. Let your nails become a canvas for celebration and show your support for the LGBTQ+ community this June.
Rainbow Gradient Nails
The rainbow flag is a powerful symbol of LGBTQ+ pride, representing diversity and unity. Create a gradient effect on your nails using the colors of the rainbow. From red to violet, this colorful design will instantly bring joy and make a statement.
Pride Flag Accent Nails
Choose one nail on each hand to feature the iconic Pride flag. Paint the flag's horizontal stripes in vibrant colors or use nail art stickers for a precise and intricate design. This accent nail will beautifully represent your support for the LGBTQ+ community.
Love and Equality Symbols
Incorporate symbols of love and equality into your nail art. Paint tiny hearts, equal signs, or the iconic double female or male symbols to express your commitment to love, acceptance, and equality.
Glitter Pride Nails
Add a touch of sparkle to your Pride nails by incorporating glitter. Apply a rainbow glitter polish to create dazzling nails that catch the light and exude joy. You can also use loose glitter to create a custom design or accentuate specific areas of your nail art.
Pride Rainbow French Tips
Put a Pride twist on the classic French manicure by replacing the white tips with rainbow colors. Paint each nail with a different color of the rainbow to create a fun and vibrant version of this timeless design.
LGBTQ+ Flag Inspired Nails
Besides the rainbow flag, various flags represent different LGBTQ+ communities. Choose a specific flag, such as the transgender flag or the bisexual flag, and recreate its colors and symbols on your nails. This nail art pays homage to the specific identities within the LGBTQ+ spectrum.
Pride Glitter Ombré Nails
Create a stunning ombré effect on your nails using rainbow-colored glitters. Start with a base color and gradually apply glitters in different shades, blending them beautifully. The result will be a mesmerizing and dazzling Pride-inspired manicure.
Pride Nail Stickers and Decals
If you're not confident in your nail art skills, use Pride-themed stickers and decals to create intricate designs effortlessly. These pre-designed elements often feature rainbow patterns, symbols, and empowering messages that allow you to show your support in a simple yet impactful way.
Pride Mosaic Nails
Create a mosaic-inspired nail design using small squares or rectangles in various colors. Arrange the shapes to form a larger pattern or a Pride-related symbol, such as a heart or a peace sign. This intricate design is both unique and visually striking.
LGBTQ+ Icon Nail Art
Pay tribute to iconic LGBTQ+ figures by incorporating their symbols or portraits into your nail art. From the pink triangle, a symbol of resistance and remembrance, to the lambda symbolizing gay rights, these symbols represent the progress and resilience of the LGBTQ+ community.
Pride Gradient Ombré Nails
Create a gradient ombré effect using pride flag colors. Start with one color on your thumb and gradually transition to a different color on each nail, representing the colors of various pride flags. This design showcases the diversity and inclusivity within the LGBTQ+ community.
Statement Pride Nails
Make a bold statement with your nails by painting empowering words or phrases. Use rainbow colors or pride flag-inspired hues to spell out messages like "Love is Love" or "Proud and Powerful." These nails not only show your support but also uplift and inspire others.
Pride Watermarble Nails
Create a mesmerizing watermarble effect on your nails using pride flag colors. This technique involves swirling multiple nail polish colors on the water's surface and then transferring the design onto your nails. The result is a unique and eye-catching manicure that celebrates pride in a creative way.
Pride Glitter Accent Nails
Add a touch of sparkle to your pride-themed nails by incorporating glitter accents. Choose a pride flag color or a rainbow glitter polish to create dazzling accent nails. Whether it's a single glitter stripe or a full glitter nail, these accents will add extra glam to your Pride manicure.
Abstract Pride Art
Embrace your artistic side and create abstract pride nail art. Use various colors and techniques to create a unique and personal design that represents the vibrancy and spirit of the LGBTQ+ community. This free-form approach allows for endless creativity and self-expression.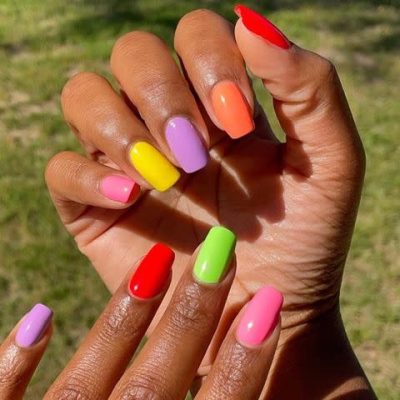 This June, celebrate Pride Month by expressing your support, love, and joy through your nails. These 15 pride nail ideas offer a range of designs that honor the LGBTQ+ community and its rich history. Whether you choose to create rainbow-inspired designs, incorporate pride flag colors, or pay tribute to iconic symbols and figures, let your nails become a canvas for celebration, self-expression, and inclusivity.
As you showcase your pride, remember that the true essence of this month is about love, acceptance, and unity. Let your colorful and vibrant nails serve as a reminder of the progress made and the work that still lies ahead in the fight for equality. Spread joy and acceptance with your Pride-themed nail art and let your nails make a statement of love and pride.