Summer is the perfect time to experiment with fun and vibrant nail colors that reflect the spirit of the season. If you're looking to add a touch of nostalgia and playfulness to your manicure, why not try an orange creamsicle-inspired design? The combination of creamy orange hues and dreamy pastel tones will transport you back to childhood summers spent enjoying this beloved frozen treat. In this blog post, we'll showcase 14 orange creamsicle manicures that are sure to brighten your day and make a statement this summer.
The Alluring Charm of Orange Creamsicles
Orange creamsicles have long been a classic summer treat, evoking memories of lazy days and sweet indulgence. The combination of tangy orange and creamy vanilla is not only delicious but also visually appealing. By translating these delightful flavors into a nail art design, you can capture the essence of summer on your fingertips.
Nail Art: An Expression of Creativity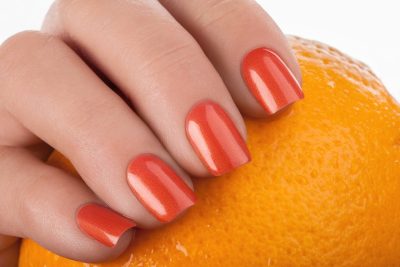 Nail art has become a popular form of self-expression, allowing individuals to showcase their unique style and personality. With an orange creamsicle manicure, you can let your creativity shine. Whether you opt for a subtle accent nail or a full-on creamsicle-inspired design, your manicure will serve as a wearable work of art that sparks conversation and admiration.
Fun and Vibrant Summer Vibes
Summer is all about embracing vibrant colors and playful vibes. By adorning your nails with orange creamsicle-inspired shades, you'll infuse your look with the energetic spirit of the season. From sunny yellows and juicy oranges to soft pastel hues, these manicures exude the perfect balance of fun and sophistication.
Creamy Pastel Tips
For a subtle and sophisticated take on the orange creamsicle trend, consider incorporating creamy pastel tips into your manicure. This design pays homage to the creamy vanilla part of the creamsicle, adding a touch of elegance and femininity to your nails. Choose pastel shades like soft peach, baby pink, or pale yellow to achieve a delicate and dreamy look.
Tangy Orange Ombre
If you're craving a bolder and more eye-catching manicure, a tangy orange ombre design is the way to go. This gradient effect starts with a vibrant orange hue at the base of the nails and gradually transitions to a lighter shade towards the tips. The result is a stunning and summery look that mimics the colors of a melting creamsicle.
Whimsical Sprinkles and Accents
Add a playful twist to your orange creamsicle manicure by incorporating whimsical sprinkles or accent nails. These details can be achieved through nail art techniques such as speckling or using small nail studs to resemble the colorful sprinkles found on creamsicles. These charming additions will take your manicure to the next level and showcase your attention to detail.
The Perfect Complement to Summer Outfits
Your manicure is an essential accessory that completes your overall look. An orange creamsicle manicure serves as a delightful complement to a wide range of summer outfits. Whether you're rocking a breezy sundress, a chic swimsuit, or a casual denim ensemble, the vibrant and summery colors of your nails will elevate your style and create a cohesive and fashionable aesthetic.
Nail Care and Maintenance
Maintaining healthy nails is just as important as the design itself. Before indulging in an orange creamsicle manicure, ensure your nails are in tip-top condition. Moisturize your cuticles, file your nails to your desired shape, and apply a strengthening base coat to protect them. This will ensure that your manicure lasts longer and looks flawless throughout the summer season.
DIY Orange Creamsicle Manicure
Creating an orange creamsicle manicure doesn't have to be complicated or expensive. With a few basic tools and nail polish shades, you can easily achieve this delightful summer look at home. By opting for a DIY approach, you not only save money but also have the opportunity to unleash your creativity and personalize your design. Let your inner artist shine as you recreate the flavors and colors of the beloved orange creamsicle on your nails.
Stand Out from the Crowd
In a sea of conventional nail colors, an orange creamsicle manicure will make you stand out from the crowd. This unique and playful choice showcases your confidence and willingness to embrace unconventional trends. Be prepared for compliments and curious inquiries as others are captivated by your vibrant and whimsical nail art. Make a statement this summer with a manicure that reflects your individuality and sets you apart as a trendsetter.
Instagram-Worthy Nails
Social media has become a platform for sharing and showcasing our best looks, and your orange creamsicle manicure is no exception. The eye-catching colors and intricate designs of your nails will undoubtedly make for stunning photos that are Instagram-worthy. Embrace the opportunity to inspire others with your creativity and earn the admiration of your followers. Show the world that you're not afraid to have fun and experiment with your style.
Spread Summer Vibes Everywhere You Go
Summer is a season of joy, relaxation, and vibrant energy. By sporting an orange creamsicle manicure, you become a walking embodiment of these summer vibes. Wherever you go – whether it's a beach vacation, a poolside gathering, or a summer festival – your nails will radiate the essence of the season. Let your manicure serve as a conversation starter and a symbol of your enthusiasm for embracing all that summer has to offer.
Treat Yourself to a Little Luxury
Indulging in a unique and playful manicure is a form of self-care and a way to treat yourself. As you admire your orange creamsicle-inspired nails, you'll feel a sense of pride and joy in your appearance. This small act of self-pampering can boost your confidence, uplift your mood, and remind you of the importance of self-love. Embrace the luxury of a beautiful manicure and celebrate the vibrant and carefree spirit of summer.
Unleash Your Inner Child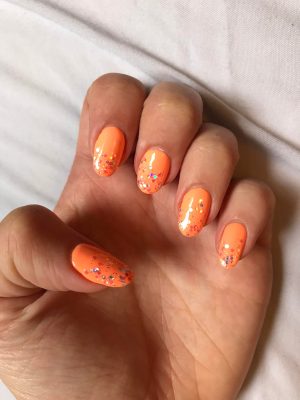 Remember the carefree days of childhood when indulging in an orange creamsicle was the epitome of summertime bliss? Recreate those nostalgic moments and tap into your inner child with an orange creamsicle manicure. Let the playful colors and sweet memories transport you back to a time of innocence and pure joy. Embrace the opportunity to relive those cherished moments and infuse your adult life with a touch of childlike wonder.
With their vibrant colors and playful designs, orange creamsicle manicures are the perfect way to celebrate summer and add a touch of whimsy to your look. Whether you opt for creamy pastel tips, tangy orange ombre, or whimsical sprinkles and accents, your nails will become a canvas for creativity and self-expression. Embrace the opportunity to stand out, spread summer vibes, and unleash your inner child with this delightful manicure choice.
So, why wait? Treat yourself to an orange creamsicle manicure this summer and let your nails become a sweet reminder of the carefree joys of the season. DIY your own unique design or visit a professional nail salon to bring your orange creamsicle dreams to life. Get ready to turn heads, spark conversations, and make a statement wherever you go. Embrace the playful spirit of summer and indulge in a little nail art magic with an orange creamsicle manicure.